Veteran Requests for Assistance Continue to Increase
Veterans from all eras reside in San Bernardino County, with needs ranging from aging and adult services to children's services, and from transitional assistance to public health. Strengthening support networks for soldiers and their families may reduce the long-term individual and societal impacts of war. Financial benefits obtained for veterans results in local spending, job creation, and tax revenue. This indicator provides information about veterans in San Bernardino County, including demographic trends, economic and educational outcomes, counts of requests for assistance from County Veterans Affairs, benefits received per veteran, and information on veterans experiencing homelessness.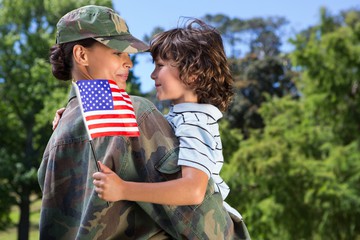 How is San Bernardino County Doing?
Period of Service for Veterans

San Bernardino County 2018

Loading
Similar to trends nationwide, the number of veterans living in San Bernardino County is declining:
In 2018, approximately 4.5% of San Bernardino County's population was comprised of veterans. 1
Between 2018 and 2045, the veteran population in San Bernardino County is projected to decline 32%, from an estimated 98,000 to 67,000. This is a slower decline than statewide, which anticipates a 48% decline.
Most San Bernardino County veterans are Gulf War vets (41%), followed by Vietnam era vets (36%).
Women comprise 9% of the total veteran population in San Bernardino County. 1
Projected Change in the Veteran Population

San Bernardino County and California, 2018-2045

Loading
While the overall veteran population is decreasing, the number of veterans returning home from active duty is increasing, driving increases in requests for assistance:
Since 2009, annual requests for assistance increased 54%, to 31,429 in 2018.
Requests for assistance include compensation for service-related injuries, pension for wartime veterans, education expenses, health care coverage, and survivor benefits.
The average new award for state and federal benefits obtained by San Bernardino County veterans service officers for veterans was $9,454 per veteran in 2017/18, which is lower than the statewide average of $10,817. 2
Requests for Assistance to the County Department of Veterans Affairs

San Bernardino County, 2009-2018

Loading
Veterans typically fare better on most economic and educational measures:
On average, San Bernardino County veterans have higher income, lower unemployment, higher educational attainment, and a lower poverty rate compared to non-veterans.
However, more veterans have a disability (27.9%) compared to the non-veteran population (12.0%).
Selected Characteristics of Veterans Compared to Non-Veterans Ages 18 and Older

San Bernardino County, 2017

|  | Veterans | Non-Veterans |
| --- | --- | --- |
| Median Income | $43,324 | $27,177 |
| Living in Poverty | 6.2% | 12.9% |
| Unemployment Rate | 3.1% | 6.8% |
| High School Diploma or Higher | 94.1% | 79.0% |
| Bachelor's Degree or Higher | 27.8% | 20.9% |
| With a Disability | 27.9% | 12.0% |
Data from the Homeless Management Information System (HMIS) reveal the following results for homeless veterans in San Bernardino County:
In the two-year period between August 2017 and August 2019, a total of 321 veterans were housed.
Over this same period, the number of homeless veterans fluctuated from a low of 52 in June 2018 to a high of 103 in June and July of 2019; the two-year average was 74.
The count contracts and expands as homeless veterans are housed and new homeless veterans are identified. While the monthly count of homeless veterans fluctuates, over this period, there is a slight upward trend in the number of unhoused homeless veterans.
Average Monthy Number of Homeless Veterans and Cumulative Number of Veterans Housed

San Bernardino County, November 2016-November 2018

Loading