More Commuters Drive Alone than 10-Years Ago
Tracking commuter trends and transportation system demand helps gauge the ease with which residents, workers, and goods can move within the county. Traffic congestion adversely affects the efficient movement of goods, contributes to the expense of operating a car, and increases air pollution. Transit use is likely significantly impacted by the sheer size of the county, the distances between destinations within the county, and low-density land use, which may result in lengthy transit trips. Residents may choose to trade off longer commute times for housing affordability or other quality of life factors. This indicator tracks average commute times, residents' primary mode of travel to work, and hours of delay on freeways in the region.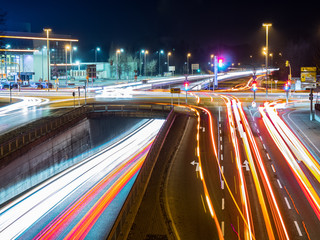 How is San Bernardino County Doing?
TREND
In 2019, the average commute time to work for San Bernardino County residents was 31.9 minutes, compared with 31.7 minutes in 2018. San Bernardino County commute times have increased by an average of 2.5 minutes since 2010.

At 79.9%, most of San Bernardino County commuters drove alone in 2019. This level is higher than ten years ago, when 73.7% of commuters drove alone. Carpooling, while the second most common means of commuting (10.1%), has declined significantly from 2010 when 17.4% of commuters drove to work with someone else. At 5.9%, the percentage of commuters working at home is steadily increasing, from 3.5% in 2010.
PERCENTAGE OF COMMUTERS DRIVING ALONE DROPS NOTABLY

Mean Travel Time to Work (in Minutes) and Percentage Driving Alone or Working from Home in San Bernardino County, 2012-2021
GEOGRAPHIC DETAIL
San Bernardino County's average commute time is longer than both California (30.7 minutes) and the U.S. (27.6 minutes) and is exceeded by Miami, Los Angeles, and Riverside, among regions compared.
SAN BERNARDINO COUNTY COMMUTE TIME IS HIGHEST AMONG REGIONS COMPARED

County Comparison of Average Commute Time to Work in Minutes, 2021
Compared to peer regions, San Bernardino County has the highest level of commuters driving alone (79.9% in 2019), while Los Angeles County has the lowest level (73.9%). San Bernardino County also has the lowest level of public transit use among peers (1.1%), well below the high of 5.7% of commuters using public transit in Los Angeles County.
SAN BERNARDINO COUNTY HAS SECOND HIGHEST RATE OF PEOPLE DRIVING ALONE

Regional Comparison of Primary Mode of Travel to Work, 2021
Nearly 366,000 residents work outside of San Bernardino County. Most of these residents work in Los Angeles County (161,749), followed by Riverside (74,774) and Orange (68,614) counties. In contrast, about 288,500 people commute into San Bernardino County to work. Of these, approximately the same number of people live in Riverside (99,617) and Los Angeles (99,307) counties and commute into San Bernardino County to work. Just 35,096 people live in Orange County and commute into San Bernardino. About 280,000 people both live and work in San Bernardino County.
MORE PEOPLE COMMUTE OUT OF SAN BERNARDINO COUNTY THAN COMMUTE IN
Arterial Pavement Condition in "Good" Range.

The California Local Streets and Roads Needs Assessment, which has been conducted biennially since 2008, rates pavement condition on a scale of zero (failed) to 100 (excellent). The 2020 assessment included a total of 22,601 lane miles of pavement in San Bernardino County, which are maintained by local jurisdictions. In 2020, San Bernardino County's average pavement condition index (PCI) was 74, which is one point below the "good to excellent" range, but higher than the statewide average PCI of 66. Ratings between 71 and 100 are considered good to excellent, while ratings of 50 to 70 are considered at risk. San Bernardino County has maintained a PCI rating between 70 and 74 since tracking began.