Bus Ridership is Falling; Rail Ridership Holds Steady
The ability of residents and workers to move efficiently within San Bernardino County contributes to a higher quality of life and a more prosperous business climate. An effective public transit system is essential for individuals who cannot afford, are unable, or choose not to drive a car. Having both rail and bus service is important for meeting diverse transit needs, with rail serving mostly longer-distance commuters and buses serving mostly local commuters and other trips. This indicator measures ridership on the commuter rail system, as well as ridership and operating costs for San Bernardino County's five bus systems, which offer bus service coverage to over 90% of the county's population.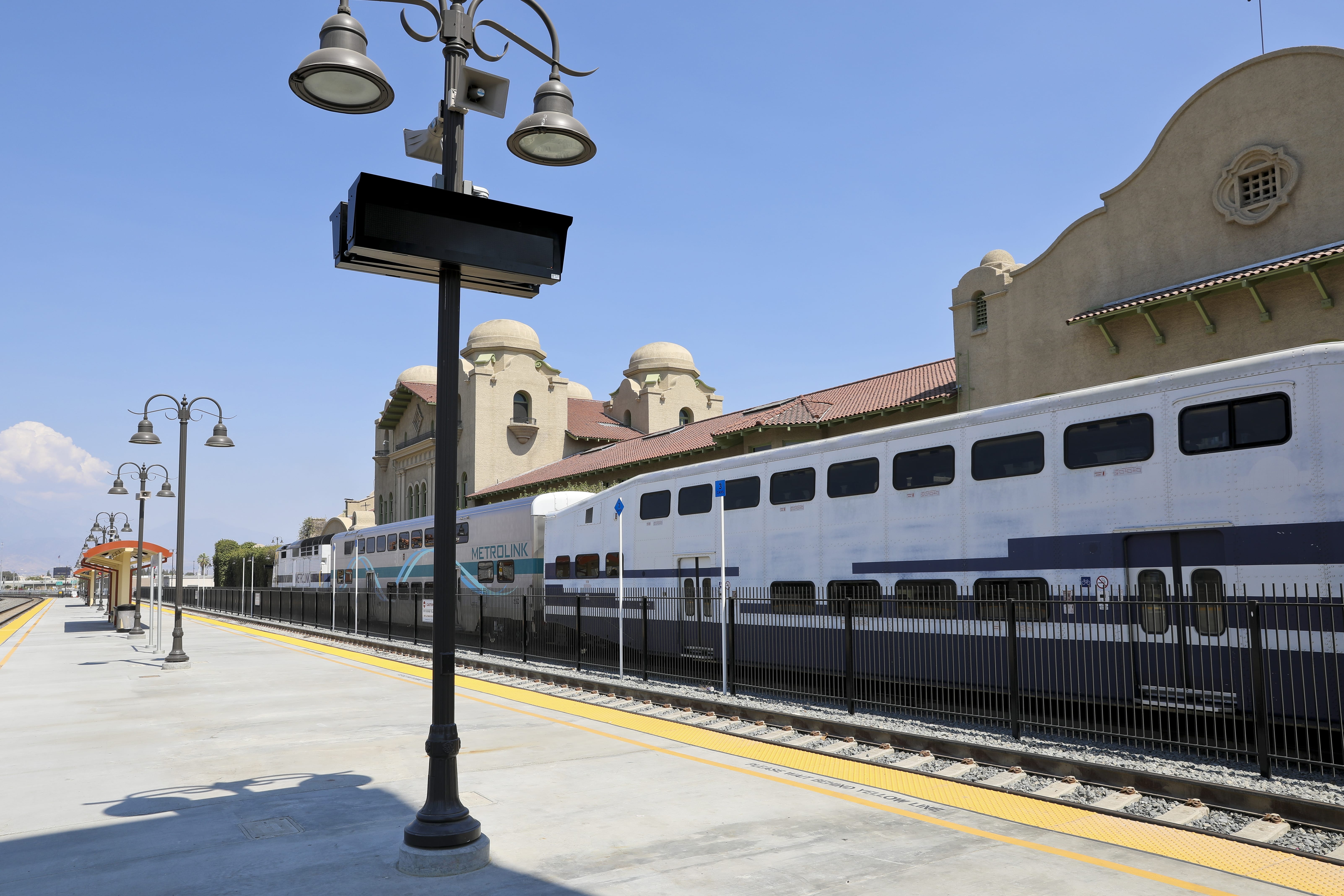 How is San Bernardino County Doing?
Commuter Rail Ridership

San Bernardino Line, Riverside Line, Inland Empire/Orange County Line, and 91 Line, 2010-2019

Loading
Overall rail ridership increased slightly in 2018/19:
In 2018/19, ridership on all Metrolink lines having at least one station serving San Bernardino County totaled 6.11 million riders, a 2.2% increase from the previous year.
This increase was driven by a substantial increase of more than 200,000 riders on the San Bernardino Line.
Ridership on the 91 Line experienced a slight one-year increase (+0.6%) while ridership on both the Riverside and Inland Empire/Orange County lines decreased (-4.7% and -3.9%, respectively).
Over the last 10 years, ridership on the Riverside and San Bernardino lines dropped by 22% and 7%, respectively. In contrast, ridership on the Inland Empire/Orange County and 91 lines increased by 26% and 28%, respectively.
Consequently, since 2010, overall rail ridership has trended downward by less than 1%.
Bus Ridership

San Bernardino County, 2011-2019

Loading
Bus ridership in San Bernardino County declined for the sixth consecutive year:
In 2018/19, there were 13,599,783 bus passenger boardings, a one-year decrease of 3% on top of a 4% decrease the prior year. Bus ridership dropped 22% overall since 2010/11.
Bus boardings for Omnitrans were 7.5 per capita in 2017, compared with 10.5 in 2013, a drop of 29% over five years. The cost per boarding increased to $5.92 per trip in 2017, up from $4.83 in 2016, a 23% increase in one year.
Victor Valley Transit boardings per capita decreased 26% to 3.9 per capita in 2016 compared with 5.3 in 2013. Cost per trip increased 24% in one year, rising to $7.55 per trip in 2017, up from $6.07 the previous year.
Per capita ridership decreased for all regions compared, except Las Vegas and Phoenix, while cost per trip increased in 2017 for all regions compared except Phoenix.
Bus System Boardings per Capita and Operating Costs

Regional Comparison, 2016

| 2017 | Boardings per Capita | Cost per Trip |
| --- | --- | --- |
| Los Angeles County Metropolitan Transportation Authority | 34.7 | $4.20 |
| Regional Transportation Commission of Southern Nevada (Las Vegas) | 31.3 | $2.40 |
| Miami-Dade Transit | 23.2 | $6.26 |
| San Diego Metropolitan Transit System | 20.2 | $3.31 |
| Valley Metro (Phoenix) | 19.7 | $4.09 |
| Orange County Transportation Authority | 13.9 | $4.76 |
| Sunline Transit Agency (Coachella Valley) | 9.6 | $6.51 |
| Omnitrans | 7.5 | $5.92 |
| Riverside Transit Agency | 4.0 | $6.72 |
| Victor Valley Transit Authority | 3.9 | $7.55 |