Participation in Hazardous Waste Collection Grows 19%
Reducing solid waste production and diverting recyclables and green waste extends the life of landfills, decreases the need for costly alternatives, and reduces environmental impact. California has set a goal of diverting 75% of waste away from landfills by 2020 through source reduction, recycling, and green waste composting. Collection of household hazardous waste (HHW) – such as oil, paint, electronics, thermostats, batteries, and fluorescent tubes – helps protect the environment and public health by reducing illegal and improper HHW disposal. This indicator measures the tons of commercial and residential solid waste generated in San Bernardino County destined for disposal in-county and out-of-county. It also measures the pounds of HHW collected and the number of annual participants in the HHW program.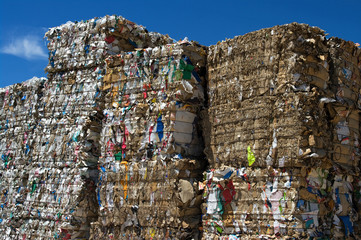 Solid Waste Generated for Disposal Compared to Population Growth

San Bernardino County, 2009-2018

Loading
Solid waste disposal has grown steadily since 2014:
In 2018, San Bernardino County residents generated and disposed approximately 1.82 million tons of waste.
Waste disposal increased 12% since 2009.
Since 2009, San Bernardino County's population grew an estimated 8%. Population growth can have some impact on disposal trends, but economic factors and waste diversion programs are the primary drivers.
In 2018, San Bernardino County residents and businesses produced slightly less waste than California overall (0.9 tons per person in San Bernardino County compared to 1.0 tons per person in California).1
Oil Filter Events (OFE) See Increased Participation
County Fire, which oversees HHW collection for the county, has expanded their outreach methods to encourage more residents to properly dispose of used oil, oil filters, and other hazardous wastes. In addition to mailers and newspaper ads, County Fire has started running radio ads and increasing their social media footprint. It appears to be working; participants have indicated they heard about the OFE's through these media.
Household hazardous waste collection trends flattened after years of steady increases:
The number of households bringing HHW to regional collection centers in 2018/19, was slightly less than the prior year, but there has been an overall 19% increase in participation over the past 10 years.
The number of HHW pounds collected in 2018/19 was slightly less than the prior year, as well. Each participating household contributed an average of 58 pounds of HHW in 2018/19.
San Bernardino County's per capita HHW collection rate (1.7 pounds per person) was considerably lower than California's (3.2 pounds per person). 2
Household Hazardous Waste Program Participation and Pounds of Waste Collected

San Bernardino County, 2010-2019

Loading