Local Funds Make Up Greatest Proportion of Investment
A comprehensive, well-maintained, and effective road and transit network is important for commuters to get to and from their jobs, for goods movement and freight to flow efficiently through the region, and for visitors and tourists to access the natural and recreational opportunities available throughout the county. Consistent and adequate investment in the county's transportation system reflects a commitment to supporting the economic vitality and quality of life of the region. This indicator measures planned investment in the county's transportation system, including investments in state highways, local highways, and transit (bus and rail), as reported in the biennial Federal Transportation Improvement Program.1 It also tracks investment through the local sales tax for transportation known as Measure I.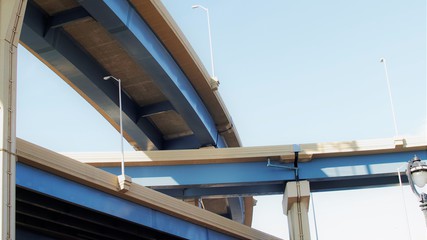 How is San Bernardino County Doing?
Planned Per Capita Transportation Investment

County Comparison, 2017-2022

Loading
Funding for transportation improvements is expected to be higher over the six-year planning period between 2017 and 2022, compared with the previous six-year cycle:
Investment in the transportation system in San Bernardino County is planned at $2,062 per capita for 2017 to 2022, compared with $1,464 per capita for the previous funding cycle (2015 to 2020).
This is a 41% increase between the 2015 and 2017 funding cycles, and in line with the peak spending in 2009. While the peak in 2009 was due in large part to the one-time federal American Recovery and Reinvestment Act (stimulus funds) and state Proposition 1B transportation bond funds, the current increase is largely due to the inclusion of the proposed express lane project on I-10, which is scheduled to begin construction in late 2018, and on I-15, which is currently under environmental review.
The investment of $2,062 per capita equates to a total of $4.39 billion invested in San Bernardino County over the six-year period.
For the 2017 to 2022 funding cycle, San Bernardino County is on the high end of per capita transportation investment compared to neighboring counties.
Proportion of Local, State and Federal Transportation Investment

County Comparison, 2017-2022 Funding Cycle

Loading
Local funding of transportation infrastructure through Measure I has increased:
In 2017/18, Measure I funds available for investment in transportation projects totaled $163 million.
Measure I is projected to generate gradually increasing annual transportation revenue through 2024/25, when annual revenue is expected to reach $208 million.
From 2010 to 2040, it is estimated that Measure I will generate $7.6 billion for local transportation projects.
Through the mid 1990's, state and federal funding accounted for nearly 75% of total transportation funding in San Bernardino County. Currently, state and federal funding account for 31% of transportation funding with local funds making up the remaining 69%.
Actual and Planned Measure I Revenue in Millions

San Bernardino County, 2010/11 – 2024/25

Loading